My pink childhood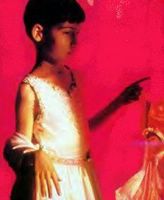 Bakla! Bakla, baket ka ginawa?
While searching for some Asian blogs, I found
Third Sex in the City
. It is a blog in queer lingo written by a Filipino gay man. While browsing his posts, the first statement that captured my attention was "Bakla! Bakla, baket ka ginawa?" It was such a poignant self-questioning. It put me in a melancholic, existentialist mood. It made me soul-search. I was left reminiscing my childhood when I thought my life was a glaring pink.
I found it hard to translate this simple Filipino line into English. I came up with several translations but found a particular one, though it sounded awkward, very apt to my struggle as a transsexual pushed to exist along the margins, even though it's neither my fault nor my wish to be here and suffer. It made me cry. I am tired of surviving from fear and paranoia. I want to exist beyond illusion and fantasy.
"Gay man! Gay man, why did you become human?" I chose this one because it is my fervent hope that hateful people in this cruel world will realize that like them, I am a human being too. I did never ask to be born this way. If I have a choice, why would I choose to become someone people scorned, hated, laughed at, caricatured, insulted, discriminated, despised, and loathed? It is very tough to exist in limits and boundaries forced on me because I am different.
I was about four years old when I felt I was a girl. I did not know then that there are gay men, lesbian women, bisexuals, and transsexuals in this world. I saw no Ru Paul or two men or women kissing on TV then. As far as I knew, there were only heterosexual people, and that I was a straight girl like my sister. We both loved the brave, handsome, nice princes in my mom's fairy tales. We also thought Ken, the doll, was hot. We just loved to watch boys play in the neighborhood. They were strong and rough. We were their silent cheerleaders. We were girls admiring boys.
I thought my folks were in denial for not recognizing my reality. I thought my dad was joking when he pulled me out from my tutu and threw baseball jerseys at me. I thought my mom was mean and selfish for not sharing her red Avon lipstick and for yelling at me when I tried her skirt on. I thought my brothers were the boys not me. They loved playing balls, climbing trees, and hitting birds with a sling. I was into skipping ropes, playing house, and dressing up my little sister. I had so many thoughts that disappointed me. My mind contradicted my body. I could not find my soul.
I saw my mother naked once. In my mind, I confidently believed that my boobs would grow bigger than hers, and I would have a thicker and darker bush covering my flower. My dad intentionally stripped himself in front of me. It was his way of demonstrating to me the male sexual anatomy. It grossed me out. It looked like a giant plastic GI Joe with a smooth helmet on and with stretched arms holding a huge hand grenade on each hand. I checked mine. It looked different. What I had was a smooth, tiny one that looked like a rosebud. I was definitely a girl not like my father.
I did never see my brothers' weenies. I did not share a bedroom with any of them. I complained vehemently when they joined me in the bathroom for a shower while I was soaking myself in a tub. The girl needed a privacy. I shared my room with my sister. I always let her in the bathroom too. We were sisters bonding and sharing. It was from her that I learned the proper way of taking a piss: sitting on a toilet bowl or squatting on the bathroom floor.
My sister saw my weenie once and asked me why mine looked so different. It had an extra meat hanging and no vertical line. I told her that she was too young to have a rosebud. I turned and pointed my ass as my vertical slit. When she pointed her buttocks and said she had the same one too, almost out of words, I was embarrassed. I did convince her though after I showed her that my slit on the back was longer than hers. Deep down, I was confused. From then on, I never took my pink Tiny Candy underwear off when I was with my sister. Later, I began to think maybe I was really born different.
No two girls would look exactly the same. Even my brothers were not alike. Our eldest had big ears. The next one had a birthmark on his face. The third one had chinky eyes. It became clearer to me why I had a weenie. I was born that way. I was different compared to my sister, but still I was a girl. Nobody influenced me to think that way. I was born with a mind that made me think I was not a boy. I came out from my mother's womb to suffer and endure the cruelty of those who refuse to understand. Sometimes, I still ask: why me?